Hi there….oops, let me dust myself off a bit before I start…. Its been plenty rainy here since our return from our travels and I am back in the shop working on orders with my music turned up and a fire in the stove. I returned with more walnut blocks for my projects.  This wood is dirty, dark, and needs lots of love (aka sanding, sanding, sanding and oil).

There has been a run on ordering these sink covers/cutting boards.  I learned that there had been a lot of "conversation" about them in an online forum for Airstream owners (here). From those conversations, I kept getting orders, which was great. I also opened up an Etsy shop which is getting a lot of traffic. so between those an our Amazon Handmade store, we are getting noticed. I am so glad people like these and I get to use my creative side to make new ones.

As I go about making these boards, I try to improve on the process so my quality stays high and I have less waste in production. I have perfected a way to cut large blocks for glue-up and slice them in half for a 'book-matched' look. So, a knot on a strip on one side shows up across the middle on the other side. This allows me to play with the variety of woods and grain to create interesting outcomes. The following photo shows the progress from the original blocks of walnut in the upper left, to milled blocks that have been planed on all sides. Then a glue-up template ready for slicing, to a sliced and shaped board on the bottom. It just needs the food-safe oil and wax finish….oh and lots of sanding to 220 grit. Oh, and do you notice the interesting light/dark grain on the glue-up set of blocks? Wait till that is sliced and a book-match occurs….stunning! Much like what occurred on the shaped one at the bottom of the photo. I am always amazed at the color and grain that pops from those old, dark and dirty blocks of wood.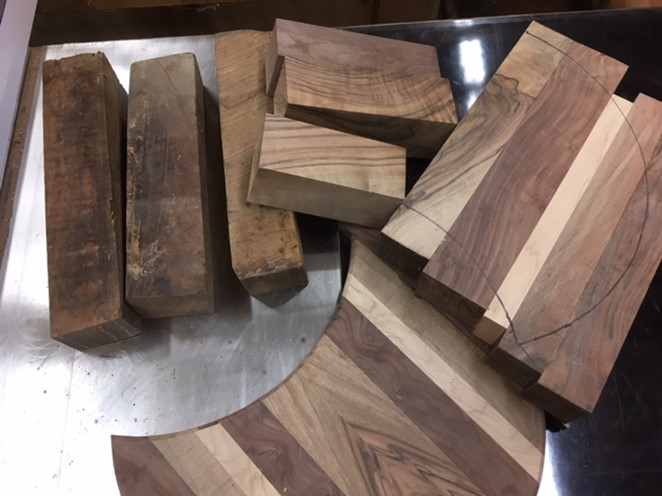 For 2017, Airstream decided to use a different sized sink, a double sink, in one of their new models. So, when I got a request for double boards, I headed to the dealer to make a template. It was an interesting process to make these, trying to keep them similar yet different. Like the round covers, they have a rabbited edge on the underside for setting into the sink. I think they turned out great!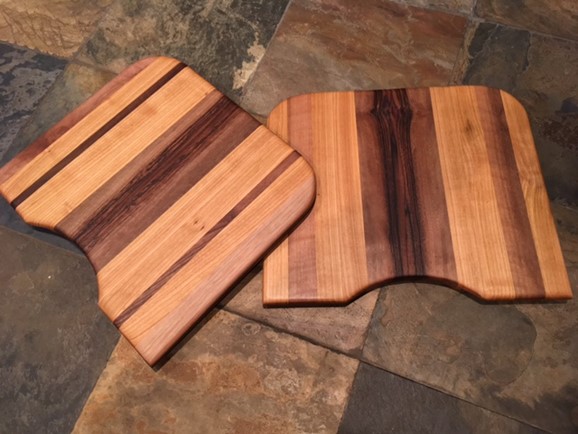 Here are a few of the other boards I created in the past weeks. Can you see the book-matching of the wood?
Which is your favorite?