Hardwood Block Frames
After completing a few projects in the shop, I was left with many small scraps of wood.  Rather than throw these into the wood stove, I decided to see what I could do with them.  I arranged them on a piece of Osage Orange wood and made a custom block frame measuring around 3′ X 4′.   I took to a friend who owns a terrific winery, Adams Bench, and asked if he could use it.  He gave it to his designer who added a large photo of the Adams Bench label as a backdrop in his tasting room.  Wow, what an impact!  He loved how the frame complemented the space.
These custom frames are made from reclaimed wood pieces.  Each frame is unique and will show off your art in fantastic fashion and speak as a piece of art themselves.  A true show-piece. They are made from blocks of Maple, Cherry, Black Walnut and Osage Orange and are finished with sealer and hand-rubbed wax.  Let me know what size you need – 8″ X 10″, 16″ X 24″, or larger.
Order your size today – info@MelchertRoad.com
Costs:
8″ X 10″ – $85
16″ X 24″ – $95
36″ X 48″ – $250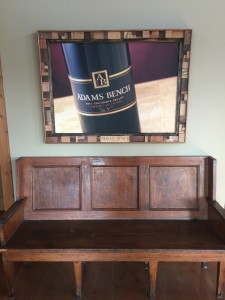 Please allow 3 weeks for production. Glass is not included.