Airstream Sink Cover Cutting Boards
To order other sizes, please email us at info@melchertroad.com
Efficiency and function are key to living small in a trailer.  We love our Airstream and love to find ways to add functionality throughout.  One way is to replace the plastic sink cover that came with the trailer, with a hardwood cover that doubles as prep space while looking fantastic.  Our sink cover/cutting boards are as different and appealing as the wood we use.  Dark walnut with light wood notes of cherry or maple goes well with a lot of the Airstream styles.  Or maybe a lot of cherry to go with the golden interiors of the Flying Cloud interior styling.  Either way, these boards will serve you well for a long time.
Generally, our sink covers come in either rectangular for Airstream double or single sinks. Or they come in round for the standard 16″ sink.  If you let us know your year and model, we can verify fit for you.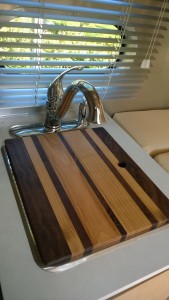 This board is a sink cover/cutting board that our client requested for their Airstream 19′ Bambi Flying Cloud trailer. It fit perfectly and is made from Black Walnut and Cherry. A hole on the right is used to grab and move the board.  A rabbited edge on the underside, locks the board to the sink.
These double boards were made for a client with a 2017 23′ Front Bedroom model.  It has a double sink arrangement.  We made them to look very similar yet different from each other.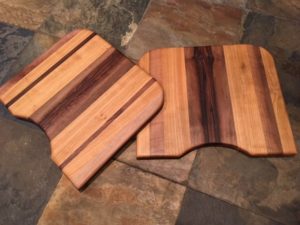 All sink cover/ cutting boards are finished in USP food-safe mineral oil, orange oil and beeswax.  Routine maintenance is recommended to ensure water continues to bead up and not penetrate the wood.  We prefer a monthly cycle of rubbing on Howard's Feed and Wax to ensure the board does not dry out.  Also be sure that water it wiped off and the board does not stand in water for any length of time.
Our sink covers incorporate a variety of hardwoods that are either reclaimed or milled directly on our property.  They are intricately joined prior to shaping and sanding.  The black walnut used are old pistol and rifle gun-stock mill ends from California.
One of our recent customers happily forwarded a photo of their Airstream Signature interior with our Walnut sink cover….a great look contrasting the dark wall with the light counter… what do you think?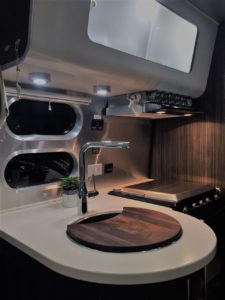 The round cutting board can be ordered with a mix of  Cherry, Maple, or Black Walnut for a 16″ round sink found standard in Airstreams. We add a rabbited edge underneath to lock the board into the sink for travel.
The above sink covers are know as 3/4-round and are designed for use of the faucet along with adding prep space. These are definitely the most popular and can be ordered through Airstream Life Magazine Store.
The photos below show full-round covers that have a hand grab big enough to sweep cuttings into the sink and for some faucet use (although splashing can occur).  Either way, these add to the fine interiors and can be ordered custom, for a light or dark interior.