To start today's discussion of food, here are some quotes to recall. Can you associate the quote with the person or movie
"The secret of success in life is to eat what you like and let the food fight it out inside"
"A martini, shaken, not stirred"
"The only time to eat diet food is while you are waiting for the steak to cook"
"Leave the gun, take the Cannoli"
"Now why don't you get out of that wet coat and into a dry martini?"
"I cook with wine, sometimes I add it to the food"
"I would be proud….to partake…in your Pecan Pie"
"There is something wrong with this yogurt…. That's not yogurt, its mayonnaise…. Right'o then"
"My doctor told me I had to stop throwing intimate dinners for four unless there are three other people"
….The personalities: Orson Wells, Julia Child, WC Fields, Mark Twain
…And the movies: When Harry Met Sally (89), The Major the Minor ('42), Notting Hill (99), Goldfinger (64), The Godfather (72)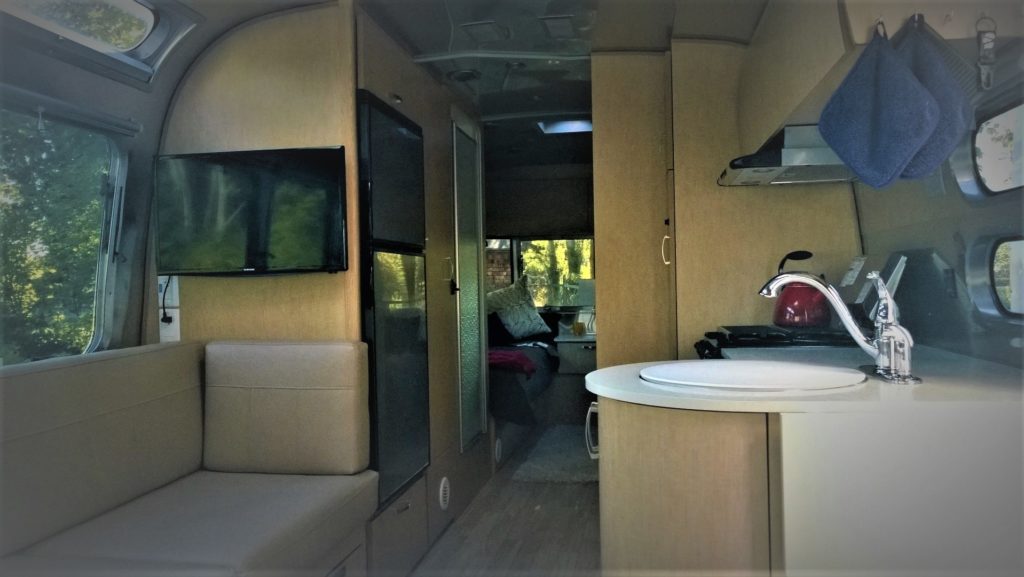 Maxwell, our Airstream, is a Flying Cloud edition, meaning it comes with light golden wood tones and white laminate counters. It is retro-styled and we love that about this trailer. However, there are a couple of places where we wanted to change it up a bit, make it unique, our own. One of those areas was the dinette table.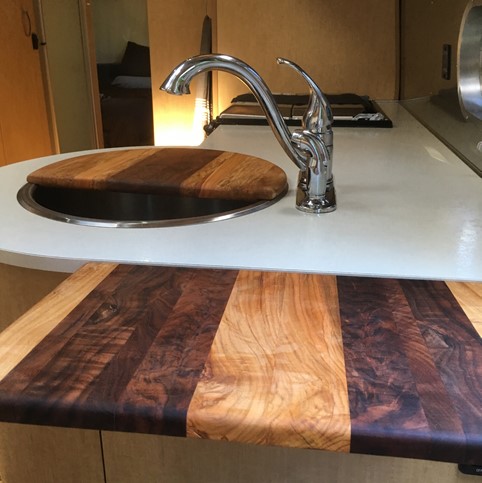 Previously, I had made a sink cover cutting board to aid in food prep. This was made from hand selected pieces of cherry, maple and walnut. It turned out terrific. But the flip-up table at the end of the counter was a white laminate board. This was also changed out for a similar-looking table top to go with the sink cover. A great pair that helped to extend our counter tops and aid in prep and serving.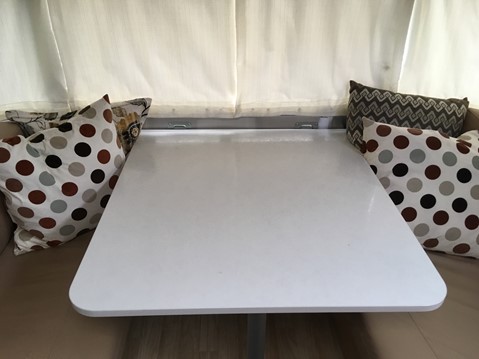 But there sat the dinette, a gleaming-white laminated table. The sharp edges didn't help with comfort either. So back the woodshop I went and started milling up some long pieces of wood. I was surprised at the colors and the options I had for bringing the new table to life. After several days of gluing, clamping, shaping and sanding, I began the tedious process of finishing the surface of the table to a matte softness. Rounded corners and edges added to the simplicity and comfort. Hmm… I thought….maybe I should tell the wife what I am working on.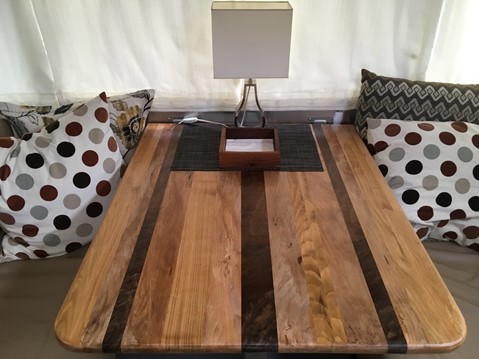 Installation was simple and now we have a great-looking dinette table to play games on, have great glamping breakfasts and dinners on, and share that wine that never gets added to food!