The prediction was for colder weather this weekend and snow levels dropping. Yet here we are walking through 6″ and its not yet November! That is to say, we have over 6″ of leaves on the road and the forecast is for more to fall with the coming winds. What a colorful time of the year….time to go and see and smell and savor the last of the sunny days!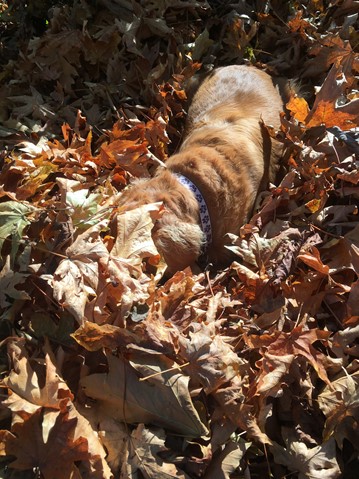 So off we went, to the Washington Coast. The drive was a short 3 hours and it provided many different scenes of autumn….tall firs intermixed with vine maples that were brilliant orange and red. Golden fields of marsh grass backed by meandering waterways that flooded during high tides. There were farms of cranberries in various stages of harvest, deep red in color. Fishing villages bustled with activity and piles of oyster shells gleamed white against the darker waters. The road wandered, celebrating the sights and colors of fall.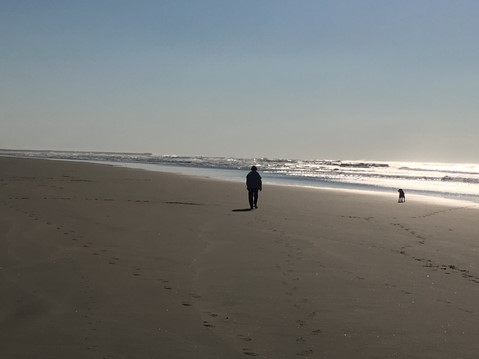 We headed west to one of our favorite spots, Cape Disappointment State Park (Fort Canby) on the Washington coast. It's just a couple of miles from Ilwaco and Long Beach. This is a Lewis and Clark heritage location, home of 2 light houses and lots of beaches and trails. We thought we would be the only ones there but to our surprise, most of the available camp sites were already reserved….I guess others wanted to experience the same as us. The sites are large, mostly private and full hook-up.  We spent out time between lounging in the sun, reading and going for long walks on the beach or up along the bluff to the lighthouse and overlook. The North Head Lighthouse is undergoing a renovation – back to original state with black roofs and more windows.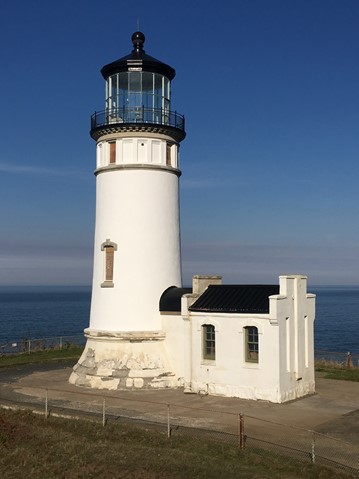 Here is our Airstream, tucked in nicely, into our….no, wait… wrong photo.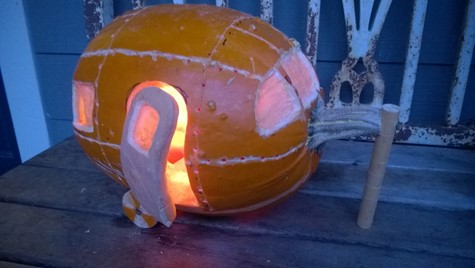 This is our Airstream, Maxwell, tucked in nicely. Cleo is on watch.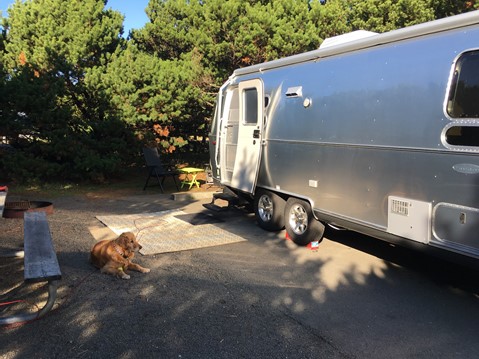 During one afternoon, the Coast Guard entertained us with air rescue training along the cliffs. Okay, a little noisy.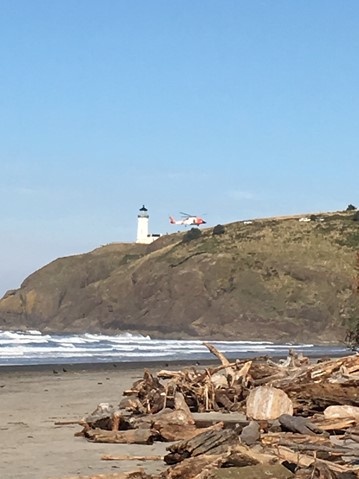 We took advantage of the afternoon light to drive a short way up the Long Beach peninsula. We came across a small town, Oysterville, on the shores of Willapa Bay. This town is on the National Register of Historic Places and today, it's a quiet village that time passed by…only 2 businesses exist. But back in the 1850s, it was a boom town built on revenues from small bi-valves. It is said that "A peach basket filled with oysters brought a dollar in gold on delivery to a schooner anchored on the tide flats in front of town. That same basket brought $10 on arrival in San Francisco, and epicures in oyster bars and seafood restaurants there would pay a silver dollar for one oyster – an oyster smaller than the dollar!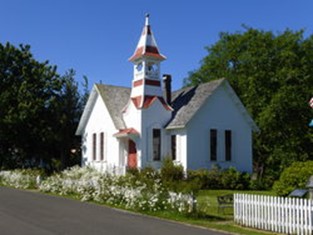 In no time, Oysterville became a rowdy, lusty boomtown. By 1855 its population and importance were such that it became the seat of Pacific County, Washington Territory. The town had many firsts – a school, college, newspaper, and finally, in 1872, a church – First Methodist. It is said that there were those in Oysterville who lived in "sin" and those who lived to be "saved" – about an even division." Many of the original homes are still standing and are preserved wonderfully.  Large lawns surround the large, well-kept homes with wrapping porches that welcome people to sit a spell.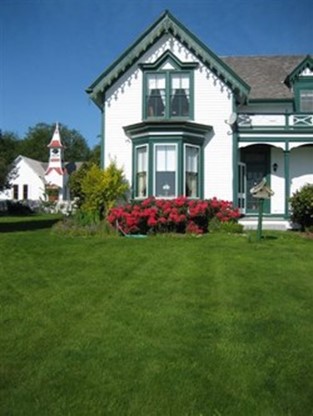 Our stay here is short…a storm moving in. But until we pack up a go, we need to continue our backgammon tournament, read some more, a watch a zillion episodes of 'West Wing'….another favorite.