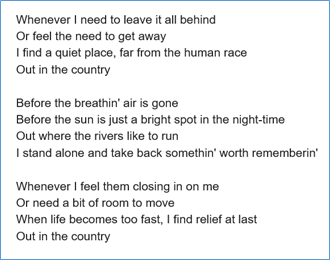 Do these lyrics sound familiar? Hint: Three Dog Night…..
I have always loved this song; Out In The Country. Back when I got my driving license, my Grandfather took me into his garage and asked if I would like to have his car…. a 1958 Chevy 4-door. I was in awe. The tires looked good. It ran, sort of. The windshield was pitted from years in the desert sand and would need to be replaced but hey, I could fix it up and make it cool. My Dad and I had to drive it from the desert to our home in the city. It almost got there without being towed but I remember driving my Dad's car with a rope tied to my car that Dad steered. Now there was a bonding opportunity!  30 minutes of driving and lots of hand signals….what he would have given for a set of walkie-talkies.
For me, that Chevy was freedom, piling kids into it after band practice, drives to the beach, and getting to my first job. This song reminds me of just wanting to get in the car and drive….and the feeling is still there.
Nowadays, there must be many others hitting the road as well. RV sales must be booming, because of the number of requests I get for custom cutting boards for RV sinks. Just this month, I have had requests for several cutting boards/sink covers for Airstreams, Cricket Trailers, Forest River Motorhomes and others. These are each, very unique cutting boards that fit into or over the sink, providing additional prep surfaces in these tight kitchens.  I use hardwood that is either reclaimed or milled from our own trees.
To make the cutting boards, I begin by milling either Black Walnut, Cherry or Maple wood, depending on what was requested. I then cut pieces and lay out as they will look when finished. Each surface has to be planed flat and true so the joints can seal out water while holding fast together. I surface each side square using a jointer then glue them together using a biscuit joiner and lots of glue. I use Titebond III glue that can hold up to moisture so seams won't separate.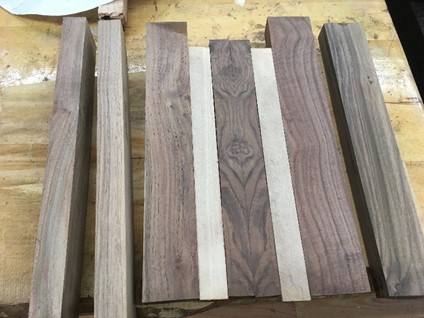 After the board is glued up and clamped tightly together, I let it rest overnight to ensure the wood is well bonded. I then clean off the excess glue and, using a bandsaw, I cut the appropriate dimensions to fit the customer's sink. I have made templates for several different sized sinks. The board is then re-surfaced, details are routed into the edges and the board undergoes multiple sandings to ensure a smooth surface.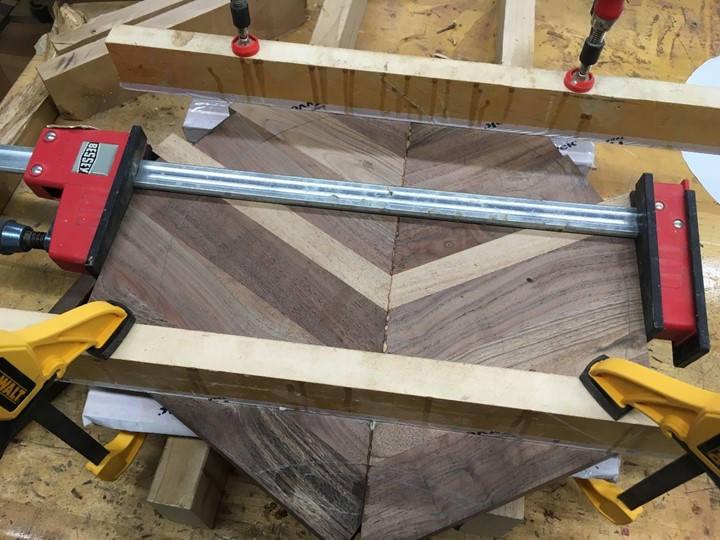 This is a really unusual full-round board made with 30 degree angles.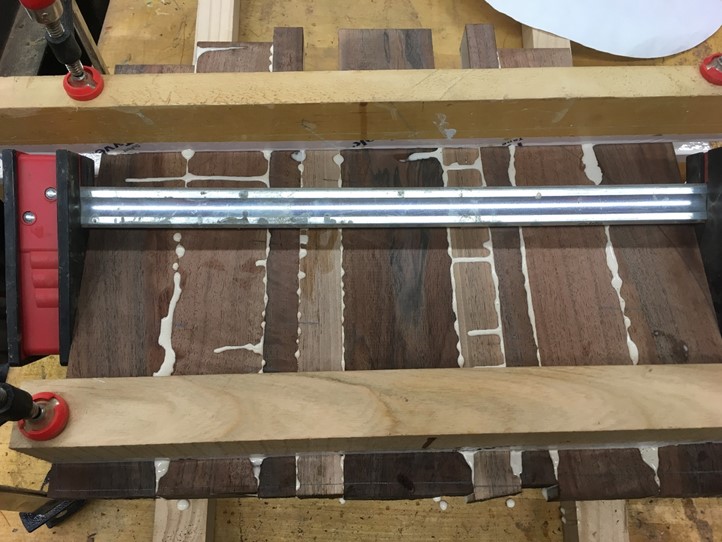 Did I mention lots of glue? A trick is to use cawls…boards clamped on top and below to hold the board flat while the glue sets.
The final product is then sealed with natural, food-safe oil and beeswax for a satin finish. I really enjoy watching how the wood reveals it's graining, it's luster and intricate colors when sanded and sealed. It is quite rewarding to hold each finished product.
Here are a few recent examples…..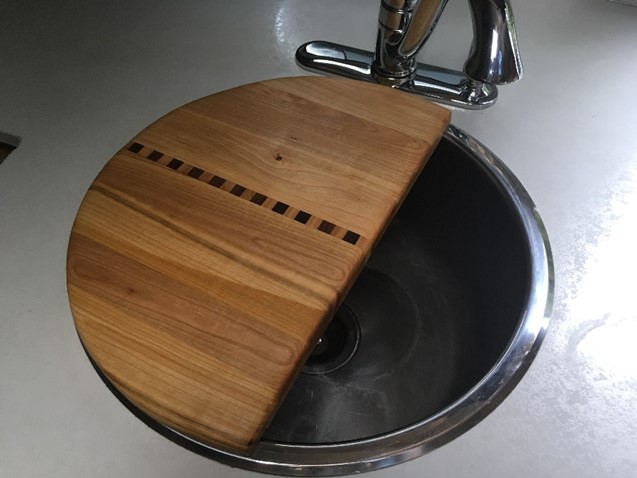 Cherry wood with Black Walnut highlights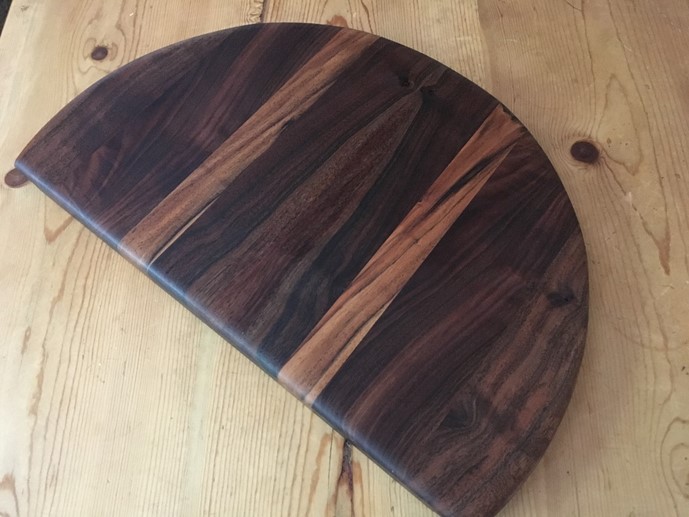 Black Walnut with light Walnut – note the fascinating grain and book-matched pieces. That is when a single piece it sliced in half and opened up with a mirrored grain on each piece.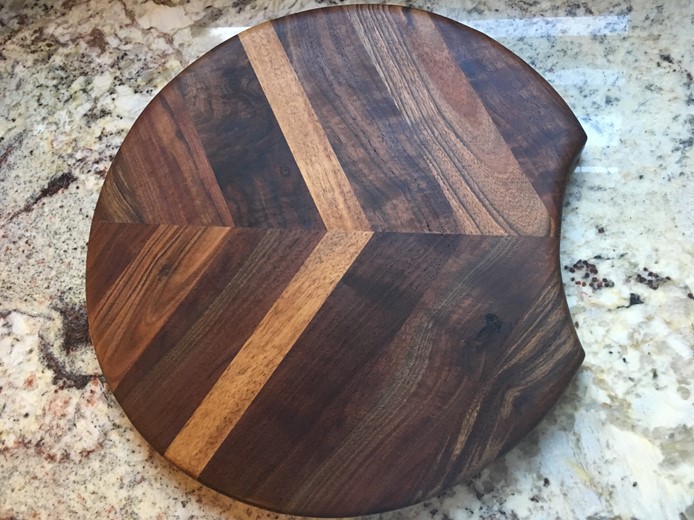 Here is the finished round board with the 30 degree angles and a hand grab area. This will fit snuggly into a sink instead of on top.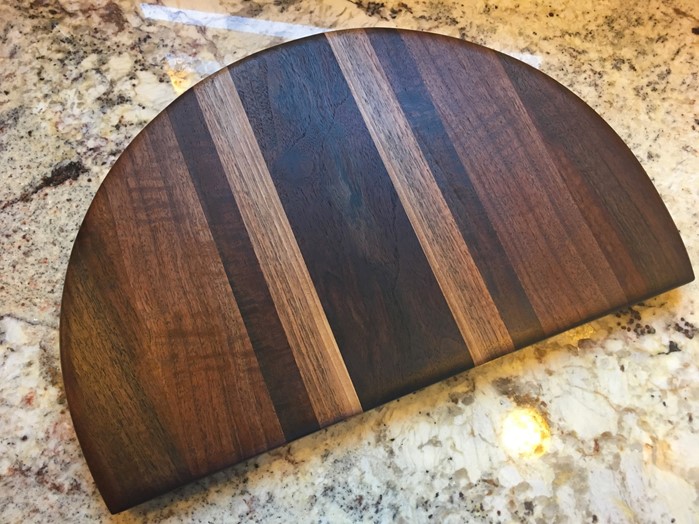 This one is (see lots of glue above) for a fellow Airstream owner with a great travel blog. Note the interesting grain detail that look like scratches on the left and mirrored on the right. Those are actually inherent to the wood.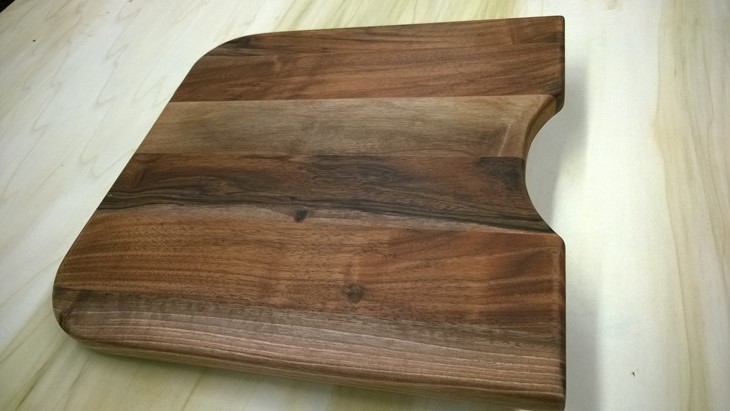 Lastly, this is one I made for my Daughter and her husband's trailer with a double sink. They wanted one that covered half. Again, this is made of interesting black walnut pieces. Pretty, huh?