Greetings all…. I wanted to share the newest items from the workshop and just in time for the summer season. Dust has been flying and the shop vacuum has been gobbled up a mountain of wood chips. Alas, that means that we have something new to share.
I have been inspired by many versions of the classic farm table that have graced recent HGTV shows and many magazines. These tables are generally made from soft woods including fir, or pine or from reclaimed barn woods or sheds. The table tops vary but they generally are from wood planks that are joined together in various lengths. The designs are simple, rustic, and very functional especially when used in a kitchen, a dining room or as a craft table. We have a 3′ X 7′ fir table in our kitchen, which we use as a prep space, eating space or just sitting around and talking with friends and family.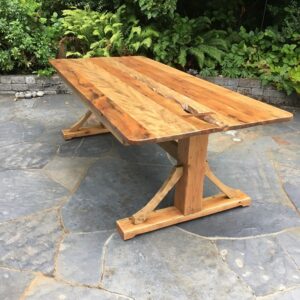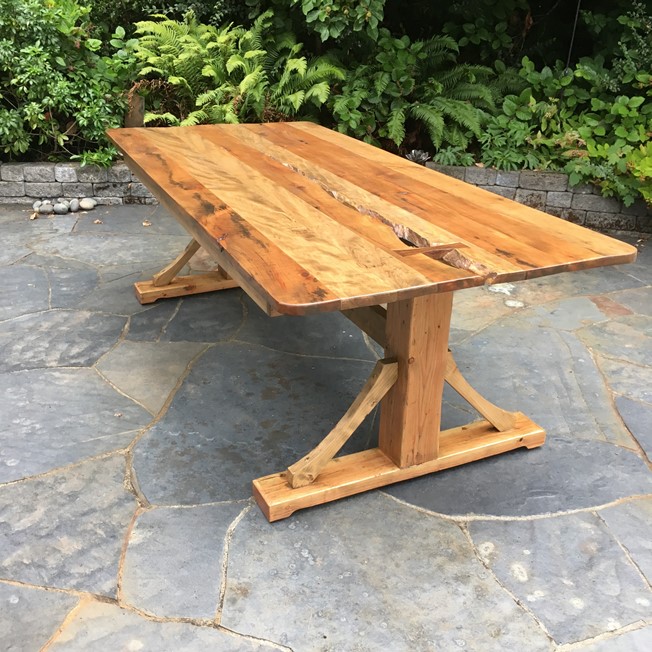 I was inspired to develop another farm table to host our many gatherings outside on the terrace. The requirements for this table was one that could easily seat 8-10 people with room for food and candles as well as place settings. I settled on a table that measured 90″ long by 42″ wide and was made from reclaimed woods.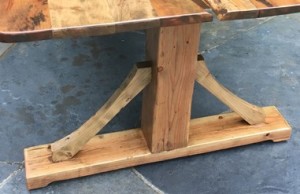 I started with a piece of 6X6 fir post I had laying around. Using it for the center post at each end would provide for the 'hefty' look I wanted in legs. I played with the idea of smaller pieces but the design called for a sturdy set of legs at each end. I pegged these posts to two pieces of 2X6 that were sculpted on the band saw with small feet. Adding 3X3 maple braces, also carved on the band saw, ensured a sturdy base for what was going to be a heavy table.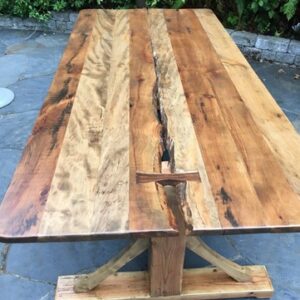 I got creative with the top of the table. I had several long pieces of natural (live) edged maple and madrona that were of sufficient length so no scab joints were needed. These boards are hardwoods, very dense and heavy. They were milled to 1 1/8" thick and 6″ wide. I placed the live edges in the middle of table and joined each plank using biscuits and lots of watertight, Titebond III glue. The live edges presented a weak point in the top so I joined these together with a butterfly patch of black walnut. The glue-up process was tedious but I wanted to ensure the woods worked to not pull apart or warp. The table was lightly sanded and stained for a consistent base color but still bring out the variance of the different woods. Two coats of marine varnish insures it can stand up to weather. A stunning look, do you agree?