I love making cutting boards for people. I can make them in different shapes, sizes and styles.  I especially like making a specialty cutting boards for my Airstream camping friends.  Trailers and campers of all types, have varying sized sinks that get choked with dirty dishes, washing food, and other collectables.  Add to that the fact of limited (to no) space for food prep and you have a perfect storm brewing.  The way I addressed this is to make cutting board covers for sinks that add workable space and a pleasing look.
The key to these cutting boards is that they are indexed (rabbited) to fit within the rim of the sink without sliding out.  Even the round style locks into the sink and will not move unless you want to rearrange where the board is relative to the faucet.  Each board is made from a combination of hardwoods including maple, madrona, cherry or walnut.  Each is finished with food-grade oils and hand-rubbed wax.  They look and feel great.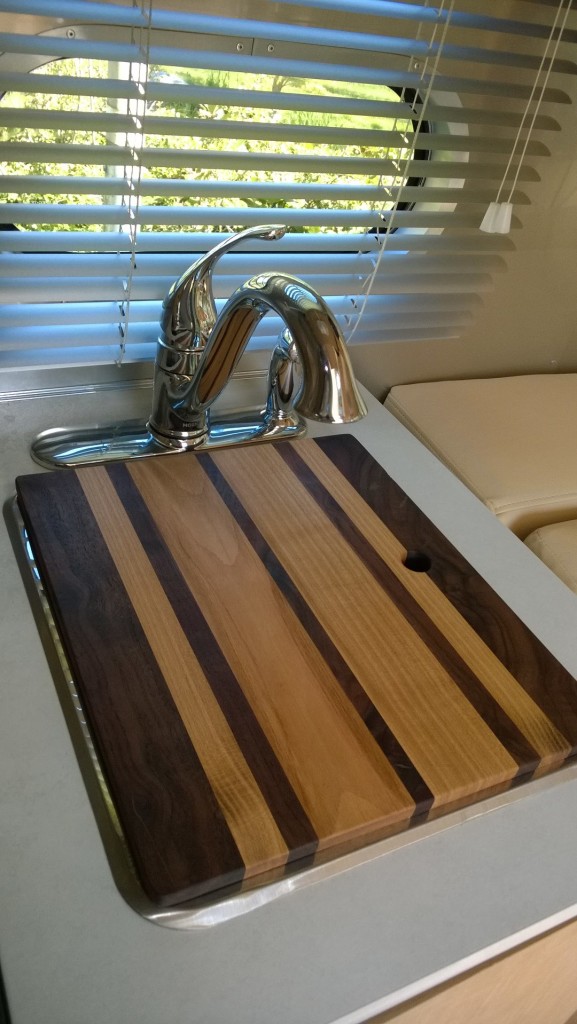 Some folks forget to maintain their cutting boards properly…and it is quite easy to do.  After a couple of washings, simply rub on a food-grade oil such as Walnut Oil or Mineral Oil.  I prefer to use Howard Cutting Board Oil which lasts a good while.  Then apply a thin layer of food-safe wax.  I use a Howard product called Feed-n-Wax which is a combination of bees wax and orange oil.  And as the Australian's say, "Bob's your uncle", your done.
Let me know if you have questions or want to order one of these.