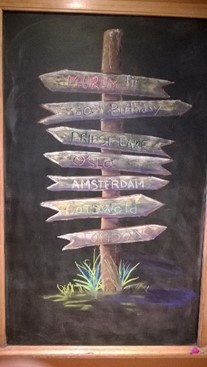 Where to next? We had planned a heavy travel schedule last year. But we never dreamed of the breadth of travel modes we would embark on – airplanes, trains, sailing ship, bus, righty-drive cars, London cabbies, and our favorite, our new Airstream. The trips highlighted our celebration of retirement. We drove the California foothills to Yosemite NP and Murphys, we headed east to my brothers 60th and then on to Priest Lake in Idaho, camping. We did a whirlwind trip to Norway, Netherlands, Belgium, and England.
What we hadn't planned, was an inaugural voyage in a new 25′ Airstream last October. Our 19′ Airstream was traded in for a bigger version (Okay, that's another story you can read about here). Needless to say, we took off in 'Big Max' and headed north to Port Angeles Washington for a week of 'dry camping' with the intention of looping around the Olympic Peninsula. We intended to stop at Port Angeles for a couple of nights and then to continue on to Forks/La Push and stay the Quileute Oceanside Resort, which has a big campground on the beach. We wanted to hike First Beach and venture into the rain forest. Then head south to Quinault and then home.
I had heard about the terrific, Clallam County Park, Salt Creek Campground, that sits right on the Strait of Juan de Fuca about 10-15 min west of Port Angeles. It has tremendous views across the strait to Victoria, Canada … at least when not fogged in.
The campground has 2 sections, the upper – with power and water and a dump station. The lower sites are more treed and rustic with no services. But they are right above the beach with terrific views through the trees. The road down is narrow (1 way) and only has back-in sites that are fairly flat. It had been raining a lot and some sites were a bit flooded. We had a reservation in one of these lower sites and found it to be very private. Getting into the site was a chore since the turns were tight and we were about 45 feet in total length. We had to avoid trees and trash bins – I don't turn sharp. We had walky-talkies and my co-pilot did a terrific job watching for limbs and tree trunks as she slowly backed me in. The door of our front bedroom Airstream is in the back and I managed to place it directly in the middle of a large puddle. How convenient to wash off shoes before entering ….
The puddles dried up by the following day, which turned out warmer and sunnier but the fog didn't lift from the water. So our view was of the beach and nearby rocks. There are a lot of hiking trails around the park and an old WWII bunker and armory that needed investigating. The air was clean and frequent fog horns, from passing ships, set the tone of a wonderful stay.
We made a quick trip into Port Angeles and found great small shops and a fantastic brew pub for a late lunch. There were a lot of things happening in town with a crab festival starting in a week and people coming and going to Victoria via the ferry. Costco, Home Depot, etc was another 30 minutes back east if we needed anything major.
We left on the 3rd day with threat of a major storm approaching the coast with expected 70+ mph winds. So instead of heading further west, to La Push, and into the main thrust of the storm, we headed back east toward home and got there just as the storm struck. We were happy to be home and happy the new trailer worked well even if only for a couple of days. We definitely will try to circle the peninsula again but for now, we need to plan our next adventure.